The movie American Pie is an American Movie which comes under the genre of teen and erotic comedy. Paul Weitz did his debut in direction through this movie and he is also the producer of this film. The story for the film is written by Adam Herz. This is the first movie in the theatrical series of the film. The movie stars Jason Biggs, Chris klein, Alyson Hannigan and many more. The story of the film is centred on the life of five classmates attending East Great Falls High. There they decide to lose their virginity before the completion of their high school. In this article we will get to know more about the film.
Know About American Pie Plot:
The story line of the film revolves around five students, in the high school studying at East Great Falls, Michigan. One among them is Levenstein, whose father offers him awkward and strange sexual advices. When one among them named, Sherman claims that he is not a virgin, they all decide to lose their virginity before graduating from high school. Each one of them tries to get a girlfriend. One joins school choir, and another pursues a foreign exchange student named Nadia who is from Czechoslovakia.
Insight Of American Pie cast:
The film American Pie stars actors like Jason Biggs, who is in the role of Jim. Chris Klein is portraying the role of Oz. Thomas Ian Nicholas is seen in the role of Kevin. Seann William Scott is in the role of Stifler. Eddie Kaye Thomas in the role of Finch. Alyson Hannigan as Michelle. Chris Owen is in the role of Sherman. Tara Reid portraying the role of Vicky. Natasha Lyonne is in the role of Jessica. Mena Suvari as Heather. Eugene Levy in the role of Jim's Dad, Shannon Elizabeth is in the role of Nadia and many more.
Everything To Know About American Pie Title: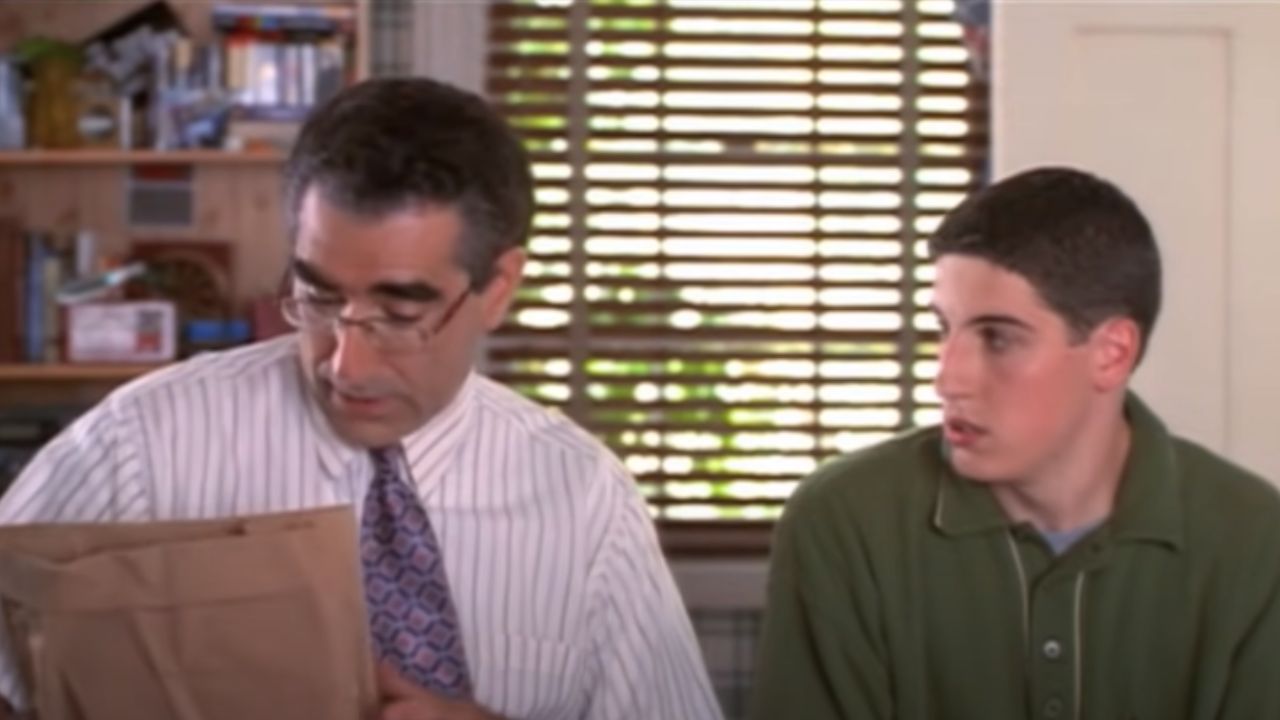 The title of the film American Pie is kept so because, It refers to a scene in which the main character is seen masturbating with a pie. He did so because he was told that the on reaching the stage of third base on gets a feeling as warm apple pie. The writer of the movie who is none other than Adam Herz justifies the title as the quest or act when one looses virginity. Losing Virginity at Highschool can be considered as American as an Apple Pie.
Everything To Know About American Pie 2:
The film American Pie 2 is the sequel for film American Pie. This movie was released in 2001. It is directed by james B. Rogers. The story of the film is written by Adam Herz and David H. Steinberg. The storyline of this movie also revolves around the five friends Jim levestein, Kevin Meyers, Chris "Oz" Ostreicher, and Paul Finch. They all attend a party, and it got shut down by the police. Keevin gets inspired by his brother and decides to rent a beach house named "Lake Michigan" to throw a grand party. In order to afford the rent, they all try to get job and got appointed for a job of painting the houses.
Know About American Pie Presents: Girls' Rules:
American Pie film possess a lot of sequel, one among them is Girl's Rules. This film was released in the year 2020. It is directed by Mike Elliott and the plot was written by Blayne Weaver and David H. Steinberg. The story is about four friends, Annie, Kayla, Michelle and Stephanie, they are are in their senior year. Kayla is the girl who is thinking that wheather her boyfriend is loyal or not, she keeps on spying his phone. After some time Tim breaks up with her. Michelle and Annie goes to a shop for getting her first ever sex toy. Michelle and Stephanie starts to like Grant and start thinking of the ways in order to get his affection. Annie and Grant start falling for each other when they plan to study as partners In the library. Emmett and Stephanie starts to spend more time together so that she can get over Grant. Due to help of Ellen Michelle gets to realize that Oliver is the perfect guy for her.