Is Pete Davidson dating Ice Spice?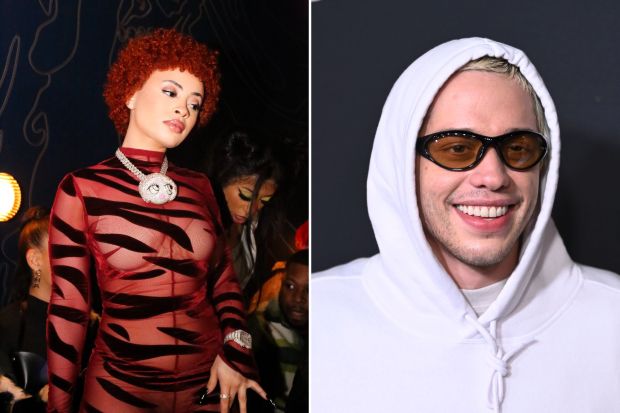 Hollywood entertainer Pete Davidson had his choice of famous women, but the most recent claims about his dating life have been the main topic for his fans and followers.
There are rumors that Pete Davidson is dating the rapper Ice Spice.
Are Pete Davidson and Ice Spice dating?
When his name began to trend on Twitter in the latter half of February 2023, rumors that Pete and Ice Spice had been dating together began circulating.
A frenzy online was sparked when one or two fans speculated that rapper Ice Spice might be connected to the former SNL comedian.
A picture of the two was sent to Instagram by "Finisher," who claimed Pete had confirmed their relationship. According to insider information, Pete is seeing the actor Chase Sui Wonders, while Ice Spice is still single. However, the rumors are false at this time.
Pete and Chase have been seen together in early 2023 at several sporting events, along with the comedian's mother and sister.
What were the comments made by their fans?
Fans have reacted with conflicting feelings over the reported romance.
One commenter asked: "Why are y'all surprised that Pete Davidson can pull chicks like Kim and Ice Spice? He's tall, hilarious, takes his tiny medications, and goes to therapy."
Another voiced his surprise: "Living in the multiverse where Pete Davidson bought Ice Spice…"
Many followers expressed relief after TMZ learned the rumor wasn't true.
One humorously remarked: "Pete Davidson is fabricating these stories himself to detract attention from Ice Spice."
Who else has dated Pete Davidson?
Ariana Grande, Kim Kardashian, and other well-known celebrities are just a few of those that Pete has dated in the past.
After a hectic five months, Pete and Ariana quickly called it quit in October 2018. They were engaged in May 2018.
Moreover, he dated Kaia Gerber, a supermodel, from late 2019 till the end of the relationship in January 2020.
Pete had a five-month relationship with "Bridgerton" actress Phoebe Dynevor in 2021.
Due to the distance between Pete's birthplace New York and Phoebe's native England, the couple eventually broke up.
The most well-known example is when Pete dated Kim Kardashian for nine months before calling it to quit in 2022.
Ice Spice Is the Voice You've Been Hearing On TikTok
You've undoubtedly heard PinkPantheress' song "Boy's A Liar Part. 2" with Ice Spice if you've gone through TikTok in the past month. Bella Hadid, Kim Kardashian, and other celebrities have all employed the bouncy rhythm and neutral, gentle vocals in videos that have become part of the app's renowned soundtrack.
The PinkPantheress original tune was catchy on its own. But it was the Gen Z rapper Ice Spice, who has swept the Internet, who got it noticed by A-listers and propelled it to the top of the Billboard charts. You're not alone if you don't know who she is, so don't worry. We at Tornado Post covered you with all the information about who she is and how she went viral in the sections below.
Ice Spice's original name is Isis Gaston.
When Ice Spice, now 23, was around 14, she first created her rap moniker as the title for her Finsta account ICYDK; a Finsta is an unfiltered Instagram for your closest friends. The Cut claims that Isis Gaston is her real name.
She also admitted to Elle, "I chose Ice Spice because it rhymes. "I also enjoy spicy cuisine. Everything has hot sauce on it."
She was raised in the Bronx, New York, and is the oldest of five siblings. The Cut reports that her parents are estranged.
Ice Spice gained popularity via the TikTok challenge initially.
The Erica Banks "Buss It" challenge gained popularity on TikTok in January 2021 and sparked a trend of creators creating content for the song. According to Elle, Ice Spice was one of many who became famous thanks to the craze. She had never gone viral before.
According to Insider, each "Buss It" challenge video had a similar structure: the creator would first dance to a Nelly song while wearing casual clothing, and then there would be a cut when the music would change to Erica Banks' "Buss It" and the creator would appear dressed up. Since it is no longer available on her TikTok profile, Ice Spice appears to have removed this video.
Read Also: Who Is country artist Marcus King's Fiancé Briley Hussey?