Who are Andy Samberg's Wife and Daughter?
Having been together since 2008, Andy Samberg and his wife were united in marriage in 2013, and their cherished daughter was born in 2017.
Who is Andy Samberg's wife, Joanna Newsom?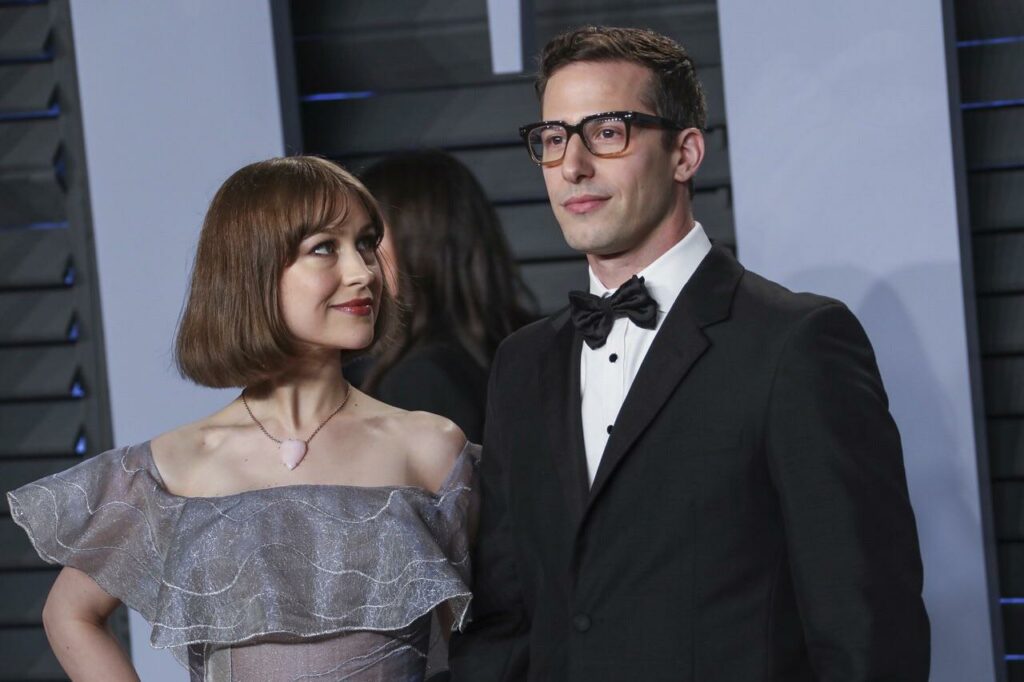 On paper, the harpist and singer Joanna Newsom and Brooklyn Nine-Nine actor Andy Samberg seem like an unusual couple. While Joanna is a serious, classically educated pianist, Andy's entire career is based on his ability to subtly make fun of himself and everyone around him. But the two have become one of the cutest and most oddly appropriate celebrity couples.
They married in 2013, welcomed their cherished daughter into the world in 2017, and have been together since 2008. Because of the high-profile projects he works on, Andy receives a lot of publicity, but Joanna would rather pursue her profession in secrecy. The two have also decided to keep their daughter's identity a secret as much as possible. However, they have revealed a lot of positive information about their marriage and the antics of their daughter. Here is everything you need to know about Andy Samberg's wife and child.
Andy Was A Huge Fan Of Joanna Newsom Before Meeting Her
We are excited to announce that a new Joanna Newsom song was released this morning! Directed by Paul Thomas Anderson https://t.co/la7xnSgpiw

— The Lonely Island (@thelonelyisland) August 10, 2015
Being Andy Samberg, one would assume that he would be accustomed to meeting famous people and individuals he admires, but when he first met his wife, he was completely star-struck. Musician Joanna Newson has a lot of talent. Before they met, Andy was a tremendous fan of her harp playing and angelic voice. He always attended her performances and kept up with her initiatives and new music. He then discovered that Joanna was a fan of his and had viewed most of his work.
How Andy Samberg & his Family managed the Quarantine?
Andy Samberg's routine in quarantine? Other than a casual #GoldenGlobes nom, just hanging out with his 3-year-old, mostly. ❤️ pic.twitter.com/vggA0rCcVK

— E! News (@enews) March 1, 2021
Joanna and Andy, two creative people with most of their typical activities taken away, can't have found Quarantine easily. Additionally, having to look after their daughter, who was three, was certainly a challenge. Andy briefly discussed their daily routine as a family.
We have a little playgroup with a few other families, so he said we make sure we get her to that in time. "We have a 3-year-old, so you make breakfast," he said. They each do their things, particularly activities linked to their employment, when their daughter is away. "The child then returns home, and that's it. After preparing dinner, taking a bath, and going to bed, you pass out, "He continued.
How did Andy and Joanna meet?
Andy Samberg and Joanna Newsom have arrived at the 2019 #GoldenGlobes. See the red carpet: https://t.co/KUVpMr2tHS pic.twitter.com/noayQcHOt0

— Vogue Magazine (@voguemagazine) January 6, 2019
Readers are already aware that Andy and Joanna had a mutual admiration for one another's writing before they met. Still, they were fortunate to have a special friend in common who set them up. Fred Armisen, the comedian, was there.
The SNL star was a good friend of Andy's and had met Joanna at work. The couple finally met when Fred and his buddy comic attended one of Joanna's performances. They started dating immediately, and a few years later they were married.
Does Andy Samberg & Joanna have children?
In 2017, Andy and Joanne welcomed their daughter into the world. I feel like I'm working on a fair trademark dad bod," he stated in an interview on Late Night with Seth Meyers in early 2020 about becoming a parent.
What is the name of Andy and Joanna's daughter?
They haven't disclosed the name of their daughter. The couple has decided to withhold their child's name because they are public people who must deal with a great deal of attention, both positive and negative, and sometimes against their will. They didn't provide much information, but they did announce their engagement and intimate wedding in 2013 and the joyous arrival of their child in 2017. When she is older, the girl will probably appreciate that because she can choose how much of her life she wants to share with others.
Is Andy and Joanna Samberg's daughter interested in making Art?
The Samberg-Newsom family values creativity and the arts, so it makes sense that Andy and Joanna's daughter is interested in creating Art from a young age. Recently, Andy said their infant is trying to imitate her mother by playing with a toy harp.
Read Also: Tom Brady's 'alleged girlfriend' is married: Who is Veronika Rajek's husband?