Who is Tom Selleck's Partner in Real Life? Tom Selleck's Wife and Relationships
Tom Selleck, born January 29, 1945, as Thomas William Selleck, is an American actor, ex-California Army National Guard, and film producer.
He was best known for his role as private detective Thomas Magnum in the tv series "Magnum, P.I." (1980–1988).
With over 5 decades in the film industry, Selleck has established himself as a competent actor with so many blockbuster roles, such as Peter Mitchell in the movie Three Men and a Baby (1987) and NYPD Commissioner Frank Reagan in the CBS series Blue Bloods since 2010. His other credits include The Rockford Files, Quigley Down Under, Mr Baseball, Lassiter, Friends, Las Vegas, and The Sacketts.
In his 50-year career, he has won two Golden Apple Awards for The Male Star of the Year (1982 and 1983), three People's Choice Awards for Favorite Males TV performer (1984 and 1884), one Emmy Award (1985), and one Golden Globe Award (1985). Besides these, Selleck is also popular for his moustache, a Hawaiian aloha shirt, a Colt MKIV/Series 70 Government Model handgun and Detroit Tigers baseball cap. Selleck is also known for driving a Ferrari 308 GTS in the series "Magnum, P.I."
Who is Tom Selleck's real-life wife?
Tom Selleck's first wife was Jacqueline Ray. Ray, his first wife, is an American model. They got married in 1971. During this time, Selleck adopted her son Kevin Shepard (born 1966), the American rock band Tonic's former drummer. Nevertheless, the enormous pressures of celebrity status made it difficult for the couple to sustain their relationship. Therefore, their relationship was short-lived, and they divorced in 1982, almost 11 years after they married.
Selleck's second wife
Following Ray's divorce, Selleck married Jillie Joan Mack a second time on August 7, 1987. Mack is an actress and dancer who showed up as an English girl in a celebration in "Rembrandt's Girl," an episode of his hit show "Magnum P.I." The couple married under the names "Tom Jenkins" and "Suzie Mark" in a lavish ceremony organized by his brother, Bob Selleck, in Lake Tahoe, Nevada.
Hannah Margaret Tom-JIllie's daughter
On December 16, 1988, a year after their marriage, they welcomed their daughter, Hannah Margaret, who brought significant changes to Selleck's professional life as he made major sacrifices to be available for his wife and baby girl. He even decided to leave his hit show "Magnum P.I." at the time. Soon after, they relocated to Thousand Oaks-Westlake Village, California, and began living on a 60-acre (24 ha) avocado ranch in Hidden Valley.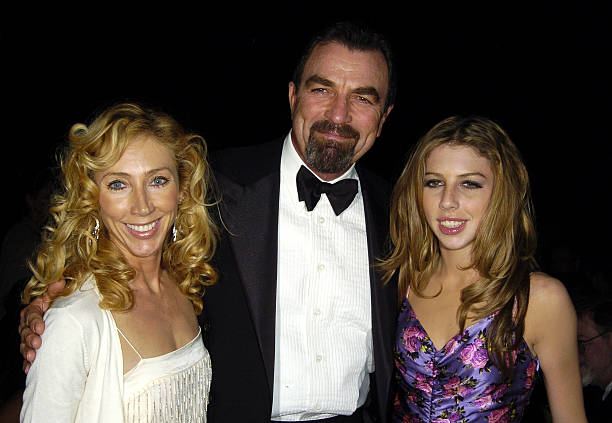 Relationship between Tom and Jillie
Furthermore, while the pair were dating, only after half a decade, the husband and wife surprised their fans when they revealed that they had married privately. Selleck first met Mack in London in 1983, when she was a London actress performing in the hit play "Cats!"
Even after the couple married, Jillie suspected Tom Selleck because of his celebrity among his fans, particularly women. Mack became extremely agitated when she discovered their neighbour was the bombshell Russian actress Sophia Loren. Still, the duo has maintained a healthy lifestyle for over 36 years as of 2022.
Is Tom Selleck dating anyone?
Tom Selleck, 74, an aspiring actor at the period, was a heartthrob to many beautiful ladies. As a successful artist, Selleck has always succeeded in winning several hearts all over the world, which includes his relationship and romantic life. Selleck has had relationships with several celebrities, including Marie Helvin (1983), Mimi Rogers (1982 – 1983), Goldie Hawn, and Lillian Müller.
Even though many women desired to be Selleck's wife, no one was as fortunate as a magnificent second wife, Jillie Joan Mack. Selleck had already given his heart to Mack after meeting her in London while watching her in the hit play "Cats!"
He has no longer made Mack the woman of his life, with whom he has spent over 30 years without hesitation. Mack even gave him the best gift of his life, Hannah Margaret, their only child.
Read Also: Who is Sebastian Maniscalco's Wife?