Today we are going to talk about the blockbuster hit of its time, McLintock. This movie is now remembered as a work of art and was a western classic with a hint of comedy in it. The movie stared John Wayne and Maureen O" Hara, the best actors of their time. This movie directed by Andrew V. McLaglen also stared many famous and brilliant actors of that time,  Patrick Wayne, Stefanie Powers, Jack Kruschen, and Chill Wills. 
Let me give a brief about the story of this movie. McLintock. If you are smart you can easily notice the resemblance between this movie and William Shakespeare's The Taming of the Shrew. It is a kind of secret because not mot of people know that.
Reviews of McLintock full movie
This movie is a favourite for a huge percentage of people who can feel the gist of the movie as a moral but there are always some bad reviews as there are two sides to a coin and it is impossible that you get only good reviews on a movie. People and critics have claimed that this movie has shown a lot of emotions and drama in a way that people were easily able to connect to the characters. All in all, the comments and reviews were all about the two main characters, John Wayne and Maureen O" Hara. People have also said Maureen O" Hara adds a lot to the movie which makes it worth watching more than once in their lifetime.
Time to reveal the McLintock cast
The cast of this movie means a lot to the people as the cast makes it by their handwork, what the movie is today. So, let me give you each and every name with the details of the character they are playing. John Wayne as George Washington "G.W." McLintock, Maureen O'Hara as Katherine McLintock, Patrick Wayne as Devlin Warren, Stefanie Powers as Becky McLintock, Jack Kruschen as Jake Birnbaum, Chill Wills as Drago, Yvonne De Carlo as Louise Warren, Jerry Van Dyke as Matt Douglas Jr., Edgar Buchanan as Bunny Dull, Strother Martin as Agard, Gordon Jones as Matt Douglas, Robert Lowery as Gov. Cuthbert H. Humphrey, Hank Worden as Curly Fletcher, Michael Pate as Puma, Chief of the Comanche Nation, Bruce Cabot as Ben Sage, Sr., Edward Faulkner as Ben Sage, Jr., Mari Blanchard as Camille, Leo Gordon as Jones, Chuck Roberson as Sheriff Jeff Lord, Bob Steele as Train Engineer, Aissa Wayne as Alice Warren, "Big" John Hamilton as Fauntleroy Sage, H.W. Gim as Ching. 
Can you guess How old Mauren O' Hara is in McLintock?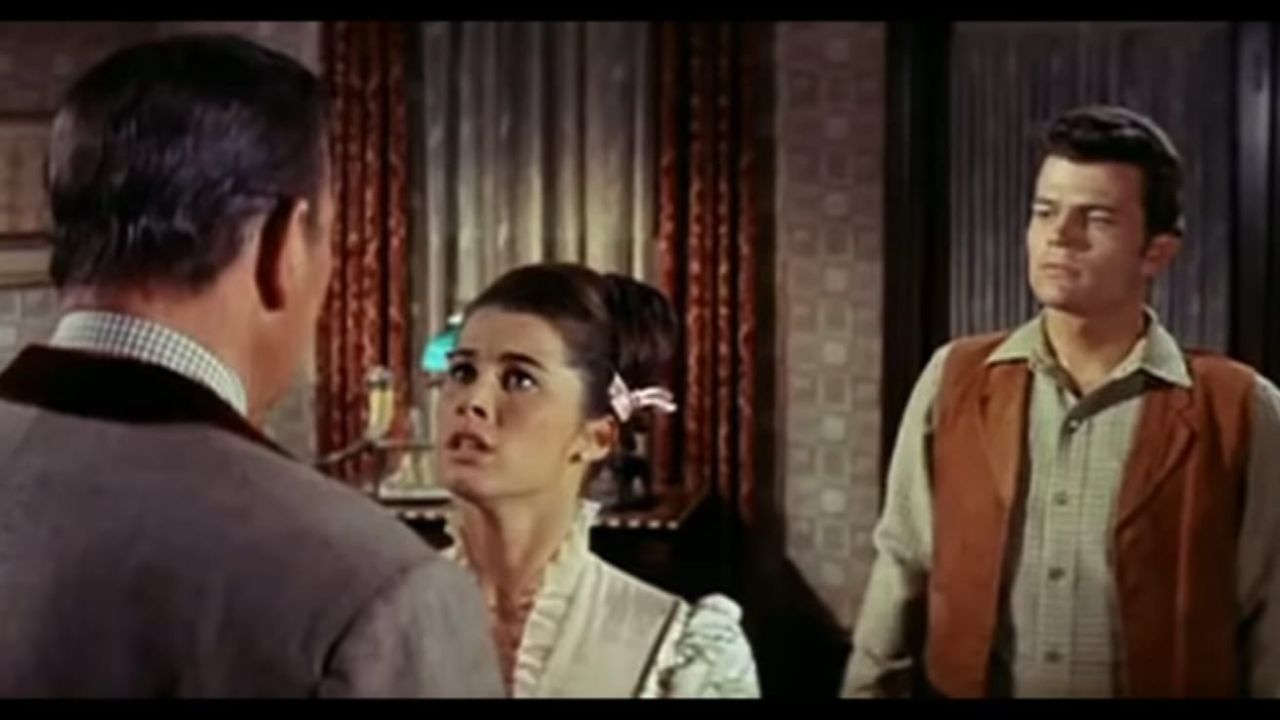 Maureen O" Hara is one of those actors who totally influence the audience of the movie. The way she played her role was not just glamourous it was ecstatic. She was one of the reasons why the movie was a blockbuster hit. There was a huge percentage of the audience watched the movie because of the outstanding performance of Maureen O" Hara and John Wayne. Maureen O" Hara was actually forty-three years old when the movie, McLintock was released. She was born on 17 August 1920 and she died on 24 October 2015. She lived a healthy life of 95 years long.
A brief description of the McLintock ending
The ending is not just appreciated but it is even said to be the best part of the movie because the way it all ended was not just well but hilarious. They lived happily ever after, well not that but yes sort of! The ending made people laugh and when people leave the theatre laughing and with happy faces then you can be easily sure that the movie is going to be a super hit. GW and Katherine bring laughter to everyone's faces and the ending is said to be the most unexpected scene as well. 
Everything seems to be worked out at last and Somehow, Devlin and Rebecca get engaged finally after hiding for so long from the Comanche in the bale of hay, and as I already mentioned the hilarious ending with Katherine and G.W.and when they reconcile back at the ranch.